The Armchair Q-Bot
Today more than ever we are a cul­ture obsessed with judge­ment. With rat­ing things. All things of all shapes and all sizes. Employ­ers rate work­ers, work­ers rate bosses. Mar­ried cou­ples rate other mar­ried cou­ples and, for that mat­ter, those who aren't mar­ried. Kids rate other kids. Com­mu­ni­ties rate other com­mu­ni­ties. There are web sites now designed for the express pur­pose of let­ting you log on to do noth­ing more than assign a rat­ing (1–10 nor­mally) to all things that mat­ter and to many that don't. The sub­jects range from pets, music, cars, art, poems, peo­ple to – believe it or not — even babies.
We are a judg­men­tal lot at heart and none among us is more cul­pa­ble than the red­blooded Amer­i­can sports fan. After all, what are sports at large if not the grand­daddy of all rat­ing sys­tems? It doesn't mat­ter if we are watch­ing teams labor through a long sea­son to see who will take home the ulti­mate rat­ing, or if we are watch­ing an indi­vid­ual player boost his own rat­ing among the faith­ful by rack­ing up impres­sive stats…A key dimen­sion of sports always has been and always will be how we rate those playing.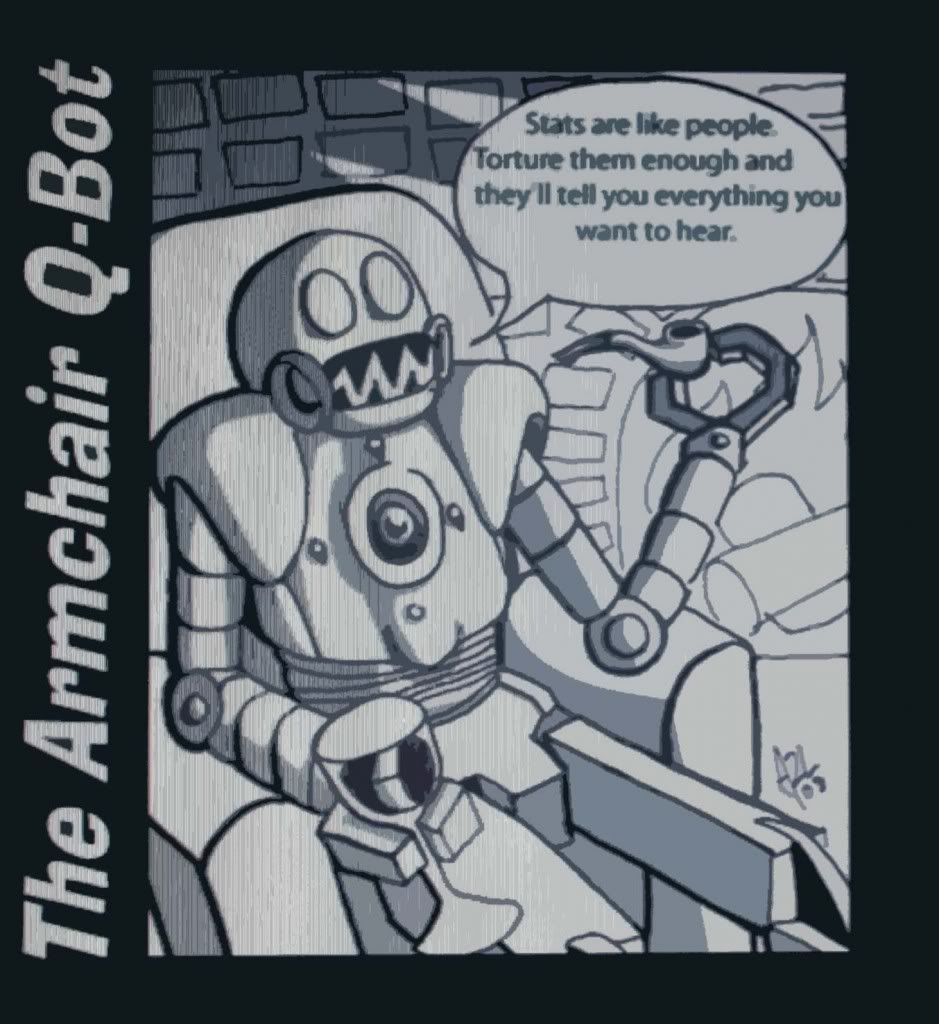 Con­se­quently, it stands to rea­son that if we are to con­tinue rat­ing the glad­i­a­tors that pop­u­late our mod­ern are­nas – which we no doubt will – then we should strive for the most accu­rate and pre­cise sys­tem with which to do so. That was the spirit behind the cre­ation of The Arm­chair Q-Bot…TheSignalCaller.com's very own Quar­ter­back rat­ing system.
Unlike other rat­ing sys­tems that have pre­ceded it (check TheSignalCaller.com's Links sec­tion for the NCAA/NFL Pass­ing Cal­cu­la­tor), The Arm­chair Q-Bot accounts not just for the sta­tis­ti­cal where­withal of a given sig­nal caller, but also for a num­ber of things which aren't mea­sured on the stat sheet. As such, it's not entirely accu­rate to label the Q-Bot Sys­tem as a "Passer" Rat­ing Sys­tem. A more telling descrip­tion would be to con­sider Q-Bot as an over­all "Quar­ter­back" Rat­ing System.
Q-Bot takes a much more global read­ing of how a given QB per­formed on every snap, not just on plays in which he was throw­ing the ball. A QB is after all account­able for the entirety of the offense he directs, not merely the pass­ing game. In the run­ning game, a valu­able QB makes invalu­able checks. Whether that means audi­bi­liz­ing into a trap to the 3-technique DT, or check­ing into an iso to exploit a lever­age advan­tage, no QB is "hands off" in the ground game. He plays an inte­gral role in help­ing put his backs in the best pos­si­ble posi­tion to succeed.
In the Red Zone, it is encum­bent on a quar­ter­back to see to it that his charges are fir­ing on all cylin­ders and that they are all (as a unit) con­scious of avoid­ing costly turnovers, no mat­ter what play is called. More­over, a savvy quar­ter­back is a great man­ager of the game and the clock, able to make the proper checks and deci­sions to help his team respond quickly when behind and too hold a lead late in the game if ahead. These are some of the things that the Q-Bot sys­tem does account for, while the tra­di­tional NCAA and NFL Passer Rat­ing for­mu­las do not. Yes, The Arm­chair Q-Bot accounts for the gar­den vari­ety sta­tis­ti­cal areas that sig­nal callers have tra­di­tion­ally been rated on, but unlike less flex­i­ble sys­tems in place The Q-Bot also goes a long way toward mea­sur­ing what many might con­sider the "immeasurable."
The one par­al­lel The Q-Bot does share with the tra­di­tional sys­tems is a NASA-like level of com­pli­ca­tion in for­mu­lat­ing the num­bers. It is what it is. When quan­ti­fy­ing things that don't directly lend them­selves to being rated, it's going to get pretty com­plex no mat­ter how you stack it. Any­one who has ever tried to unravel the val­ues assigned to var­i­ous stat cat­e­gories in the cur­rent NCAA passer rat­ing sys­tem knows that they would be just as well served to try and decode the mean­ing of life with a bro­ken weed eater and a col­lec­tion of shower cur­tain rings. What'd ya say? I'm the only one comb­ing through that stuff? Oh. Uh…
(Uncom­fort­able pause)
Well, trust me either way. It's complicated.
Ok…So how does The Arm­chair Q-Bot sys­tem work? Glad you asked. First, here's a glance at the num­ber value assigned to each stat cat­e­gory and/or sce­nario. Take a sec­ond to kick the tires then we'll take it for a spin in a real game sit­u­a­tion (Pat White's per­for­mance in the 2008 Meineke Car Care Bowl).
Com­ple­tion

Per­cent­age %: Divided by 2, plus (+)…
Touch­down Pass Per­cent­age %:

Mul­ti­plied

by 2, minus (-)…

Inter­cep­tion

Per­cent­age %:

Mul­ti­plied

by 5, plus (+)…
Aver­age Gain Per Pass Attempt:

Mul­ti­plied

by 2, plus (+)…
Team's Third Down

Con­ver­sion

Per­cent­age %: Divided by 4, plus (+)
Team's Red Zone

Scor­ing

Per­cent­age %: Divided by 5, plus (+)…
Team's Total

Offen­sive

Yardage: Divided by 40, plus (+)…
Also: If the QB's offense scores imme­di­ately fol­low­ing (first pos­ses­sion after) the oppo­nents' first score, Add (+): FG-2 Points, or Touchdown-4 Points
If the QB's offense scores in the final two min­utes of either half, each time they do so the fol­low­ing points will be Added (+): FG-2 Points, or Touchdown-4 Points
If the QB's team blows a lead in the fourth quar­ter of ten or more points and loses the game, no mat­ter what the final score is, Sub­tract (-): 5 Points
That all sounds fine, but you might be won­der­ing at this point how this for­mula can be used to actu­ally eval­u­ate a QB's over­all per­for­mance in a real game. Let's take a look.
As a frame of ref­er­ence that you might be famil­iar with, I'll walk you through an eval­u­a­tion of for­mer Moun­taineer stand­out Pat White's already leg­endary per­for­mance in West Virginia's bowl vic­tory over North Car­olina in 2008.
It's been a long off­sea­son and in addi­tion to need­ing an oil bath The Q-Bot also looks fam­ished! Let's feed him Pat White's Meineke Car Care Bowl stat line and other essen­tials from the game and see what the old 'droid comes up with.
First let's look at Pat's com­ple­tion per­cent­age. Incred­i­bly, he con­nected on 26 of 32 pass attempts for an eye-popping 81.25%. Plug that into The Q-Bot and that com­ple­tion per­cent­age num­ber gets divided by 2 for a final value of: (+) 40.6.
Sec­ond, we'll check White's Touch­down Pass Per­cent­age. In 32 pass attempts Pat con­nected for 3 Touch­downs (9.4%). Plug those num­bers in and The Q-Bot mul­ti­plies it by 2, cal­cu­lat­ing Pat's TD Pass Per­cent­age value at: (+) 18.8
Next we look at Inter­cep­tion per­cent­age. Noth­ing in this for­mula will hurt your rat­ing faster than throw­ing picks. For­tu­nately for White only 1 of his 32 pass attempts was inter­cepted. How do inter­cep­tions hurt a QB so much in this sys­tem? Simple…They are given con­sid­er­able weight and mul­ti­plied out by five. In other words, in the case of White, The Q-Bot takes his Inter­cep­tion Per­cent­age of 3.1% and mul­ti­plies it by 5 for a final value of: Minus (-) 15.6
Now in the for­mula we assess White's Aver­age Gain Per Pass Attempt. Against the Tar Heels Pat attempted 32 passes for a total of 332 yards through the air. That divides out to an aver­age of 10.4 Yards Per Attempt, one of the high­est single-game aver­ages of the WVU standout's career. The Q-Bot grabs that num­ber and mul­ti­plies it by 2 for a final value of: (+) 20.8
Sit­u­a­tion #1: In the Q-Bot sys­tem, if a sig­nal caller guides his offense to a score the first time they take the field after the opponent's ini­tial score of the game, he is in turn rewarded…Two points if he leads the offense downs the field for a field goal, or Four points if he guides them to a Touch­down. The ratio­nale behind this is sim­ple. A team is at a vul­ner­a­ble point after the opposition's first score. If the offense goes three and out or, worse yet, turns the ball over and gives it back to the bad guys, they might quickly score again and before you can say "Sud­den Change" you could have a full blown cri­sis on your hands. It's always best to cut the other guy's momen­tum off at the knees before it truly devel­ops. In short, the best way to respond to get­ting fired upon is by fir­ing back.
The pos­ses­sion fol­low­ing an opponent's first points of the game, whether it is in the 1st quar­ter or the 4th, is often one of the most crit­i­cal of the entire match-up. So, what bet­ter time to judge a Quar­ter­back than in such a cir­cum­stance? This dimen­sion of The Q-Bot sys­tem pro­vides a QB with a once-a-game oppor­tu­nity to cash in on rat­ing points.
So did Pat White make the most of this oppor­tu­nity against UNC? Yes, resound­ingly. The Heels' first points came on a 73-yard scor­ing grab by Hakeem Nicks mid­way through the first quar­ter. The Car­olina side­lines erupted with the long TD and UNC sud­denly seemed poised to grab the game's momen­tum and make the most of it. If West Vir­ginia sput­tered at that point, things might have taken a turn for the unfa­vor­able. Instead, WVU took the field and Pat answered by method­i­cally guid­ing the Moun­taineers on a 65-yard scor­ing drive. The drive cul­mi­nated in a 44-yard Touch­down strike from White to Alric Arnett, quickly quelling (at least for the moment) a poten­tially irrepara­ble Car­olina surge. In a game that was ulti­mately trans­formed into a shootout, those points proved vital. By lead­ing WVU on that Touch­down Drive imme­di­ately fol­low­ing the Tar Heel's first points of the game, Pat is awarded by The Q-bot sys­tem a value of: (+) 4
Next is another unique oppor­tu­nity for QBs to score rat­ing points under The Q-Bot for­mula. Any time a sig­nal caller guides his offense on a scor­ing drive that cul­mi­nates in the final two min­utes of the first half or the game, he is rewarded 2 points (for a Field Goal) or 4 points (for a Touch­down). The­o­ret­i­cally a player is poten­tially pre­sented with this mul­ti­ple times a game, once (or even more) in each half. If he suc­ceeds on mul­ti­ple occa­sions, he will receive the points each time. The logic behind this scor­ing ele­ment of The Q-Bot sys­tem is straight­for­ward: Effec­tive QBs are often most effec­tive when time is work­ing against them and their team is pressed to quickly push down­field and score. A sig­nal caller who is adept at guid­ing his offense to suc­cess under such con­di­tions should be rewarded. In this sys­tem, he is. As for Pat White, no such cir­cum­stance arose in the win over North Car­olina so he receives no points for this cat­e­gory. Value: (+) 0
Finally, there's more to good quar­ter­back­ing than glam and glitz. Some­times a sit­u­a­tion war­rants that, in order to help his team win, a QB must not only be very cau­tious with the foot­ball but milk the clock and scrap and claw for an ugly first down or two to help keep his defense on the side­lines. Con­se­quently, the last thing The Q-Bot sys­tem weighs is a quarterback's abil­ity to do just that: Pro­tect the lead. To effec­tive sig­nal callers this qual­ity is a given. It's their job. As a result, this is a sit­u­a­tion in which The Q-Bot does not giveth…but he may Taketh Away. If a QB's team blows a 4th quar­ter lead of 10 or more points and loses the game (irre­spec­tive of whether the final score is 16–13 or 52–49) that quar­ter­back is in turn penal­ized by The Q-Bot in the form of Minus (-) 5
Again, this sit­u­a­tion did not arise with Pat White in the Meineke Car Care Bowl so it does not have a bear­ing on his score. Value (-) 0
So now that all the num­bers are in, you may be won­der­ing what all of this trans­lates to as far as Pat White's final rat­ing against North Car­olina accord­ing to The Arm­chair Q-Bot. For those of you who haven't been keep­ing score at home, let me pull the lever on The Q-Bot and see what he dispenses.
Uh-oh. The Q-Bot is gyrat­ing a bit. I see some smoke bil­low­ing out of his power cou­pling. This must be a good one! Here it is…Pat's final Q-Bot rat­ing in the win over UNC is: 110.8 points!
So, with­out any other frame of ref­er­ence, you might now be won­der­ing just how solid that over­all rat­ing is. Now that you have a bet­ter under­stand­ing of how the for­mula works, let's wrap this up with a glance at The Q-Bot rat­ing posted by some other QBs you may have heard of dur­ing some notable per­for­mances of the recent past:
Vince Young, Texas; GAME: Long­horns with an epic 41–38 National Cham­pi­onship vic­tory over South­ern Cal in the 2006 Rose Bowl. NOTE: Neat trick gar­ner­ing a final rat­ing so high when you con­sider that Young didn't have a sin­gle Touch­down pass in this game…More evi­dence that with The Q-Bot for­mula there's more than one way for a pro­duc­tive QB to rack up a solid score. What was unique about his per­for­mance here was that he guided the Texas offense to three Touch­down dri­ves inside of two min­utes left in the half and/or game (twice in the final two min­utes of the 2nd quar­ter, once in the 4th). Under The Q-Bot sys­tem, Young receives 4 points for each of those TDs—–THE ARMCHAIR Q-BOT RATING: 99.6
JaMar­cus Rus­sell, Louisiana State; GAME: LSU blasts Notre Dame 41–14 to cap­ture the 2007 Sugar Bowl. NOTE: This was the per­for­mance that many feel won Rus­sell a hefty pay­day by cat­a­pult­ing him to the top of the NFL Draft boards where he was ulti­mately selected #1 over­all by Oak­land. Against the Irish, Rus­sell mas­tered the long ball, throw­ing for over 300 yards and con­nect­ing on a pair of 58-yarders . The Tigers' offense proved too much for an over­matched Notre Dame 'D' that yieded 577 total yards.—–THE ARMCHAIR Q-BOT RATING: 94.5
Jared Zabranksy, Boise State; GAME: The Bron­cos shock the col­lege foot­ball world with an unimag­in­able 43–42 vic­tory over Okla­homa in the 2007 Fiesta Bowl, high­lighted by a per­fectly orches­trated hook-and-ladder TD in the game's final sec­onds. NOTE: Zabranksy racked up 8 of his Q-Bot rat­ing points by direct­ing Boise State on Touch­down dri­ves in the final two min­utes of each half, includ­ing the his­toric gad­get play that tied the game with seven sec­onds remaining.—–THE ARMCHAIR Q-BOT RATING: 98.9
Matt Lein­hart, South­ern Cal; GAME: Aided by a 61-yard Matt Lein­hart com­ple­tion on 4th down with less than a minute-and-a-half to play, No. 1 ranked USC scored to knock off the Irish in South Bend and con­tinue on course to appear in the 2005 National title Game. NOTE: No TD passes against 2 inter­cep­tions con­tribute to a rat­ing that will leave Matt a bit blue. Leinhart's rat­ing, which rep­re­sents the low­est total of those men­tioned here, is a prod­uct of lack­lus­ter play that is made mildly respectable by the per­for­mance he strung together in crunch time. Four of his total Q-Bot points came as the result of a Trojan's TD drive in response to Notre Dame's first score of the game, and 4 more of his points were gained by string­ing together the now iconic game-winning touch­down drive in the final two min­utes of the con­test. "The Bush Push" into the end­zone with three sec­onds remain­ing that extended SC's win­ning streak to 28 also added 4 rat­ing points to Leinhart's over­all total cour­tesy of The Q-Bot's Sit­u­a­tional Scor­ing Oppor­tu­ni­ties. All told, this was a text­book case of a mar­ginal game with a fan­tas­tic fin­ish for the ages. Lein­hart played below his stan­dards for the bet­ter part of the first three-plus quar­ters, but found his stride in the game's final min­utes to help USC march into history.—–THE ARMCHAIR Q-BOT RATING: 58.6
Sam Brad­ford, Okla­homa; GAME: The Soon­ers climbed back into the 2008 national title hunt by bomb­ing No. 2 ranked Texas Tech 65–21 just weeks after Tech upset top-ranked Texas. NOTE: Unbeaten Texas Tech blinked…and they were down 28–0. Brad­ford con­nected on 74% of his throws in direct­ing an offense that shred­ded Tech for 625 total yards. The OU sig­nal caller was as close to per­fect as you can get, guid­ing the Soon­ers to 8 scores in their first 9 pos­ses­sions en route to carv­ing up the Red Raiders' defense for the most points sur­ren­dered in school history.—–THE ARMCHAIR Q-BOT RATING: 166.7 (No, that's not a typo)